Stimulate – Reduce – Improve
Losing your hair can have such an impact on confidence and self esteem!
There are a numbers of reasons for hair loss and hair thinning – causes can be both hormonal or non-hormonal.
With the use of PRP (Protein rich plasma) extracted from your own blood mixed with Pluryal Mesoline Hair or Antiox which are both proven agents to stimulate hair growth, reduce hair loss and improve hair quality, great results can be achieved.
This treatment is done using a mesotherapy gun which is actually painless and a lot less traumatic than a needle and syringe injection technique.
After 3 Treatments over 3 Months of Hair Restoration Treatment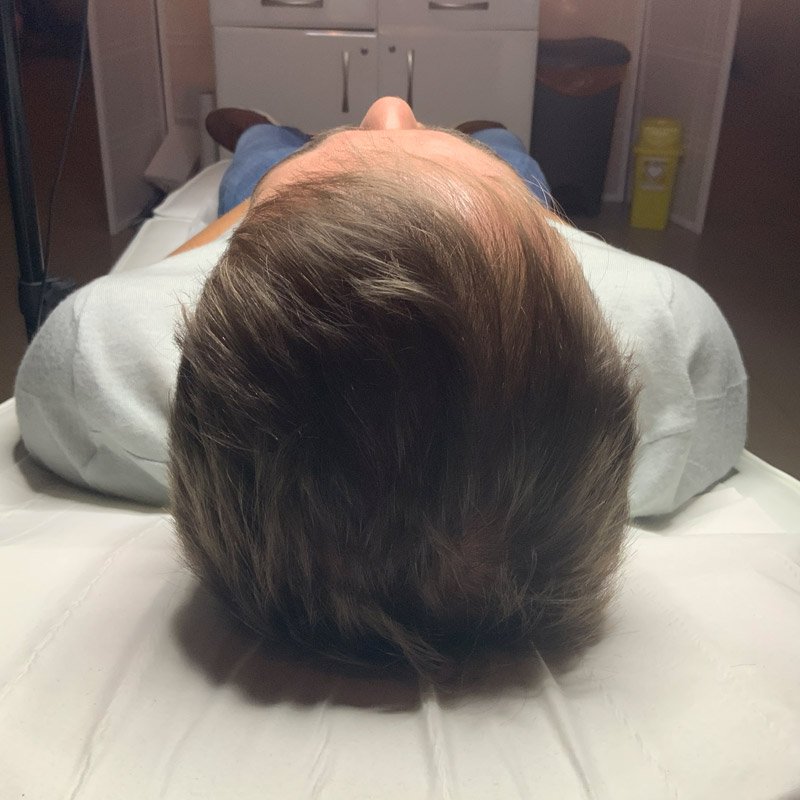 After Hair Restoration Treatment 1 Year Top Up
Before Hair Restoration Treatment
3 Weeks After Hair Restoration Treatment
Before Hair Restoration Treatment
After 2 Treatments over 2 Months of Hair Restoration Treatment
3 sessions initially at monthly intervals and then 1 session every 6 months is recommended to maintain results.
What is PRP (protein rich plasma) hair loss treatment?
PRP (Protein Rich Plasma) treatment for hair loss is a three-step medical treatment, where a person's blood is drawn from a vein, processed, and then injected into the scalp.
Thinning hair and pattern balding can affect both men and women.
The PRP injections are designed to trigger natural hair growth and maintain it by increasing the blood supply to the hair follicle and increasing the thickness of the hair shaft. This approach is sometimes combined with a prescribed medication of Pluryal Mesoline Hair or Antiox, formulas known to stimulate blood flow to the hair follicles. These unique vegetal stem cell boosters activate hair growth, while vitamins, amino acids and hyaluronic acid improves the quality of the hair.
What does the treatment involve?
Your blood in extracted, usually from the arm, and placed into a centrifuge (a machine that spins the blood extremely fast to separate its components, protein rich plasma and red blood cells).
The protein rich plasma is extracted into a syringe and injected into the targeted areas of the scalp using an intradermal injector.
Is the treatment painful?
Patients undergoing this treatment may experience mild pain at the injection site, scalp tenderness and swelling.
Are there any side effects?
Some patients may experience mild pain at the injection site, tenderness of the scalp, swelling, itching, temporary bleeding at the injection site and headache. 
How long does the procedure take?
Each session may take between 1 and 1.5 hours to complete.
How many treatments are needed?
Three treatments are required, 4-6 weeks apart, with a maintenance treatment being required every 6 months.
When can I expect to see that the treatment is working?
It may take between 3-5 months before you start noticing an improvement.  This varies from person to person, and if you have less hair loss, you may notice an early improvement.
SEE A MORE YOUTHFUL VERSION OF YOU
NON-INVASIVE COLLAGEN STIMULATION
MULTI-AWARD WINNING, non-invasive, non-surgical technology that starts working immediately.
Sofwave precisely reaches the mid-dermis to stimulate the production of new collagen and elastin – the skin's natural scaffolding. As collagen is replenished, the face and neck starts to lift and appear tighter, creating a more youthful appearance naturally.